Betties, it's gift-guide season and we've curated some of our team's everyday, wellness favorites.
Whether you're looking for a last-minute gift, planning for 2022, or browsing with no occasion in mind at all, bookmark this list of self-care standbys and go-to products for  recommendations to support your health all year long.

HER EVERYDAY FAVORITES: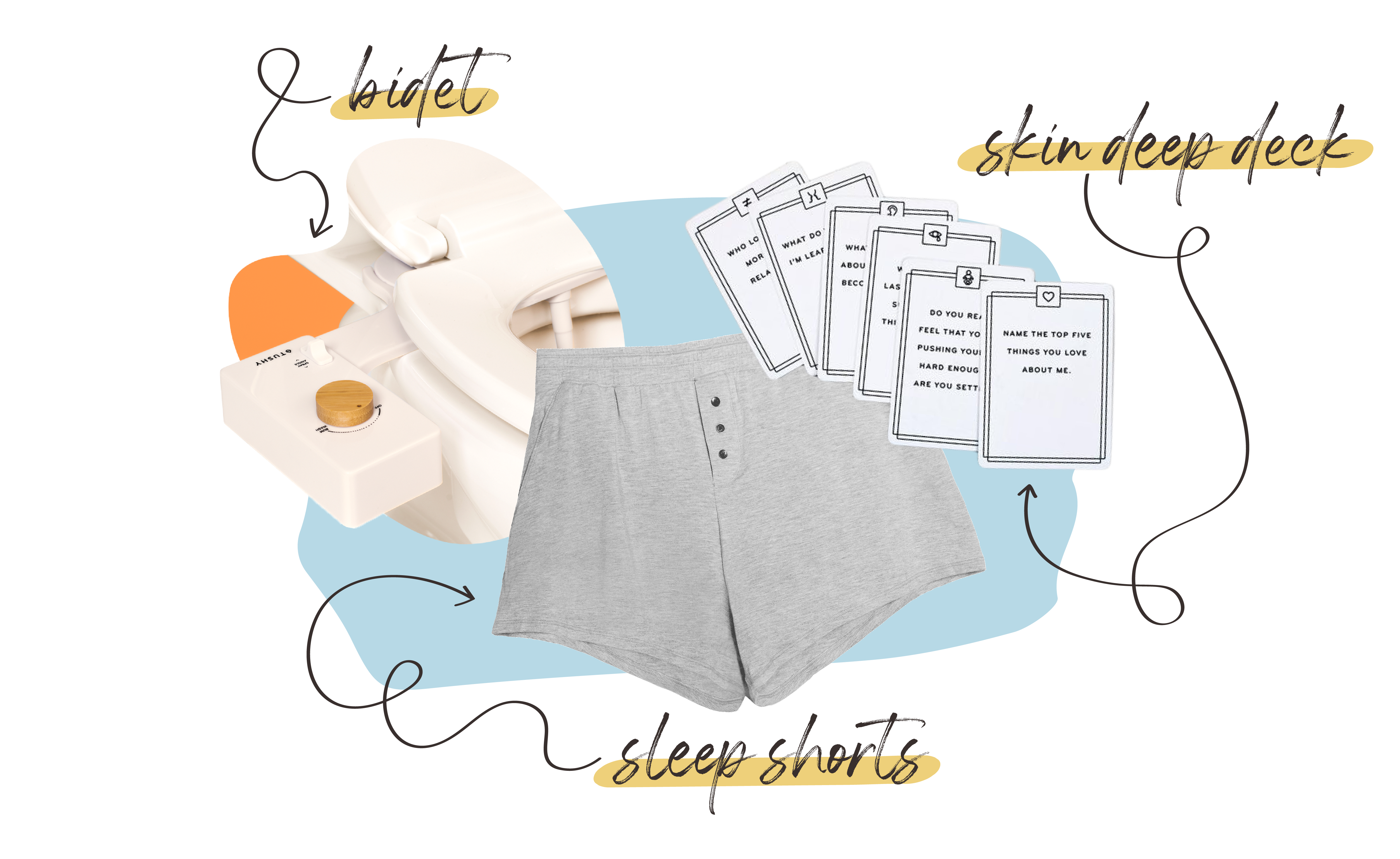 A bathroom essential! It's perfect for fast, period cleanup. Plus, it's eco-friendly so you can say goodbye to wasteful wipes and excessive amounts of toilet paper!
Heavy-day tested and approved. So much more comfortable than a traditional pad, and more eco-friendly!
RE: Relationships – communication is key and this card game is all about asking deep questions! They also have several different deck variations – family, friends, dating, intimacy – that make for a fun way to get closer and grow  your relationships!

HER EVERYDAY FAVORITES: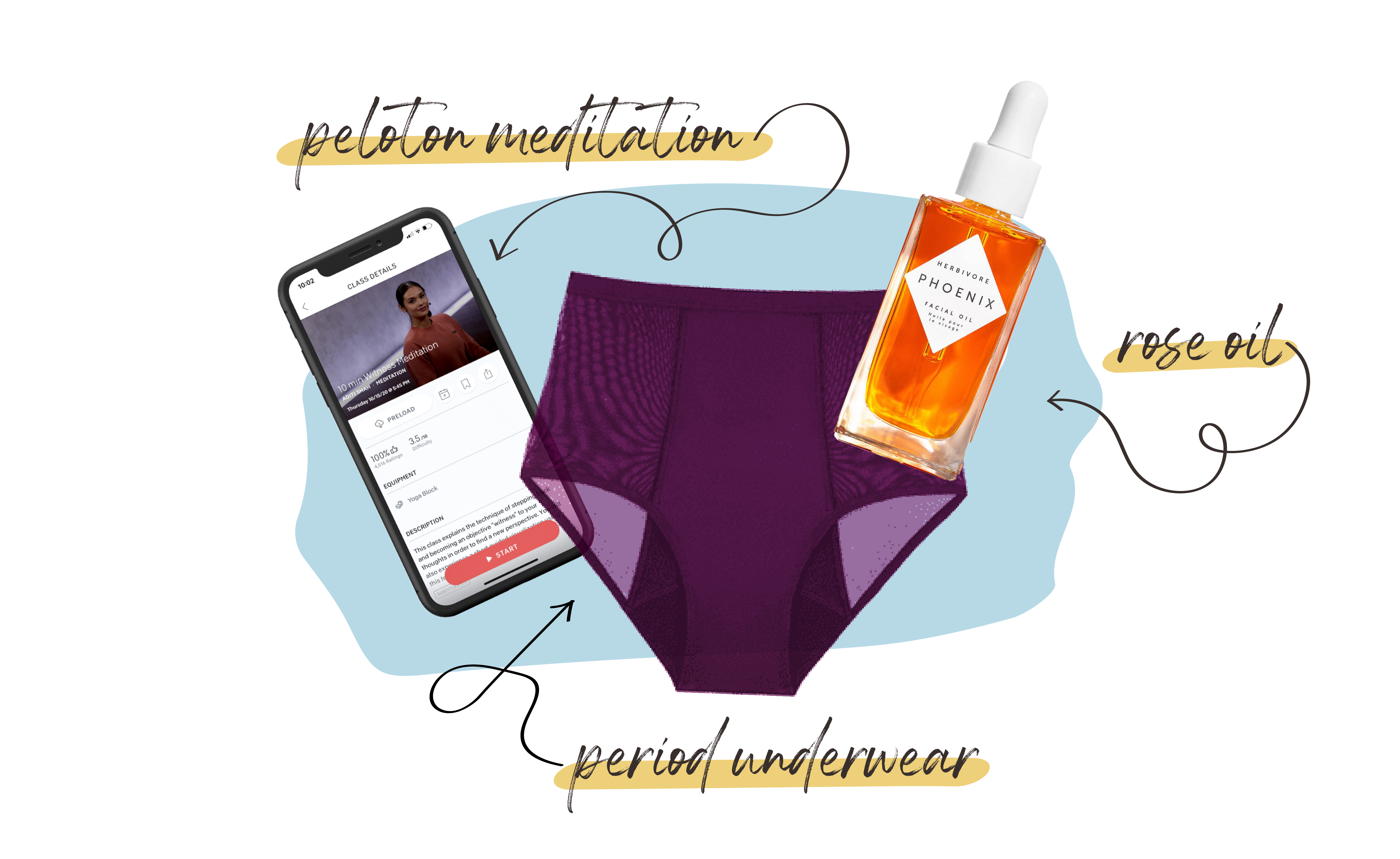 PELOTON'S 5-MINUTE MEDITATIONS
There's a ton of meditation apps out there, but I love the sessions on my Peloton app. Their 5-Minute Meditations are fun because you can customize the mood or intention, which is perfect for me because my life is crazy and busy and it makes it easy for me to customize for what I need that day.
I have dry skin, so I use this by the gallon! I like mixing it with almond oil or any unscented oil, so it lasts a little longer and smells oh, so good.
I recently started using Thinx and love them for several reasons:
✅ They offer different styles for different days and flows, including an overnight option.
✅ They look good and are wear well under clothes, too.
✅ You know those few days you're waiting around for your period? Wearing these makes the wait less dreadful.
My favorite is their high-waisted option which I love for bloat-day feels. The fabric is super supportive, which helps with cramping and bloating – almost like wearing a comfy pair of Spanx!

HER EVERYDAY FAVORITES: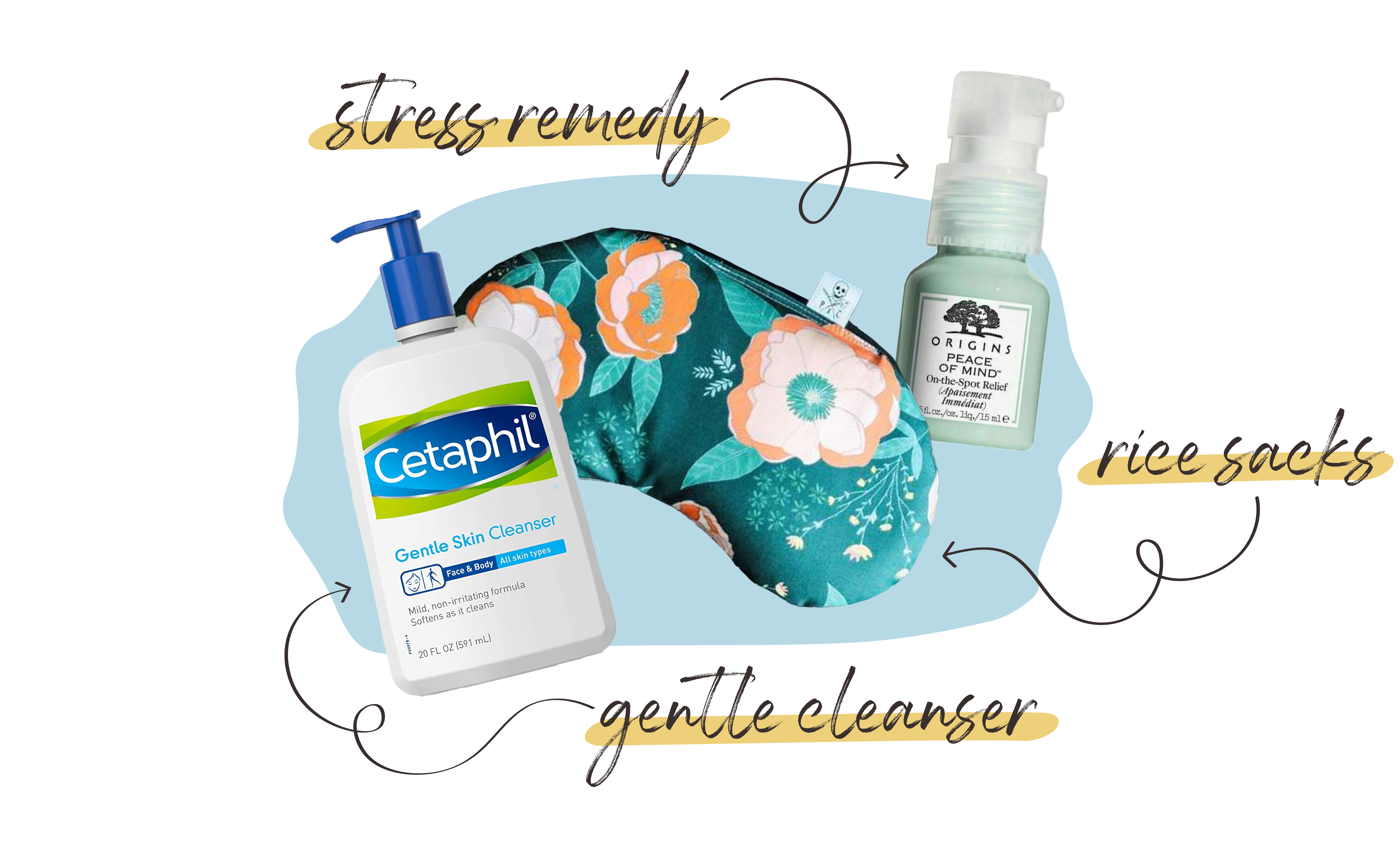 CETAPHIL GENTLE SKIN CLEANSER + DOVE SENSITIVE SKIN BODY WASH
One of the most frequently asked questions I get from patients is what body wash I recommend. My favorite mild cleansers are Cetaphil Gentle Skin Cleanser and Dove Sensitive Skin Body Wash!
This is my go-to product for stress-induced headaches. When I need to decompress, here's what I do: I put on some calm music, lay down in bed, dab of little of this product on my fingers and massage it onto my temples, earlobes and back of the neck. Then, I close my eyes, take a deep inhale and *boom* immediate relief. Peace of Mind is infused with a blend of peppermint, basil and eucalyptus essential oils, so it smells amazing and gives that instant calm and refreshing feeling.
For period pain, heat is everything! When cramps get particularly intense, I like to apply a warm rice sack to my lower abdomen.  The rice sack is warmed up in the microwave, just be careful it's not too hot. Never apply heat directly to the skin so make sure you use a barrier, like a shirt or a towel. I like to support small businesses, so I usually buy my rice heating sacs on Etsy or at craft markets!

HER EVERYDAY FAVORITES: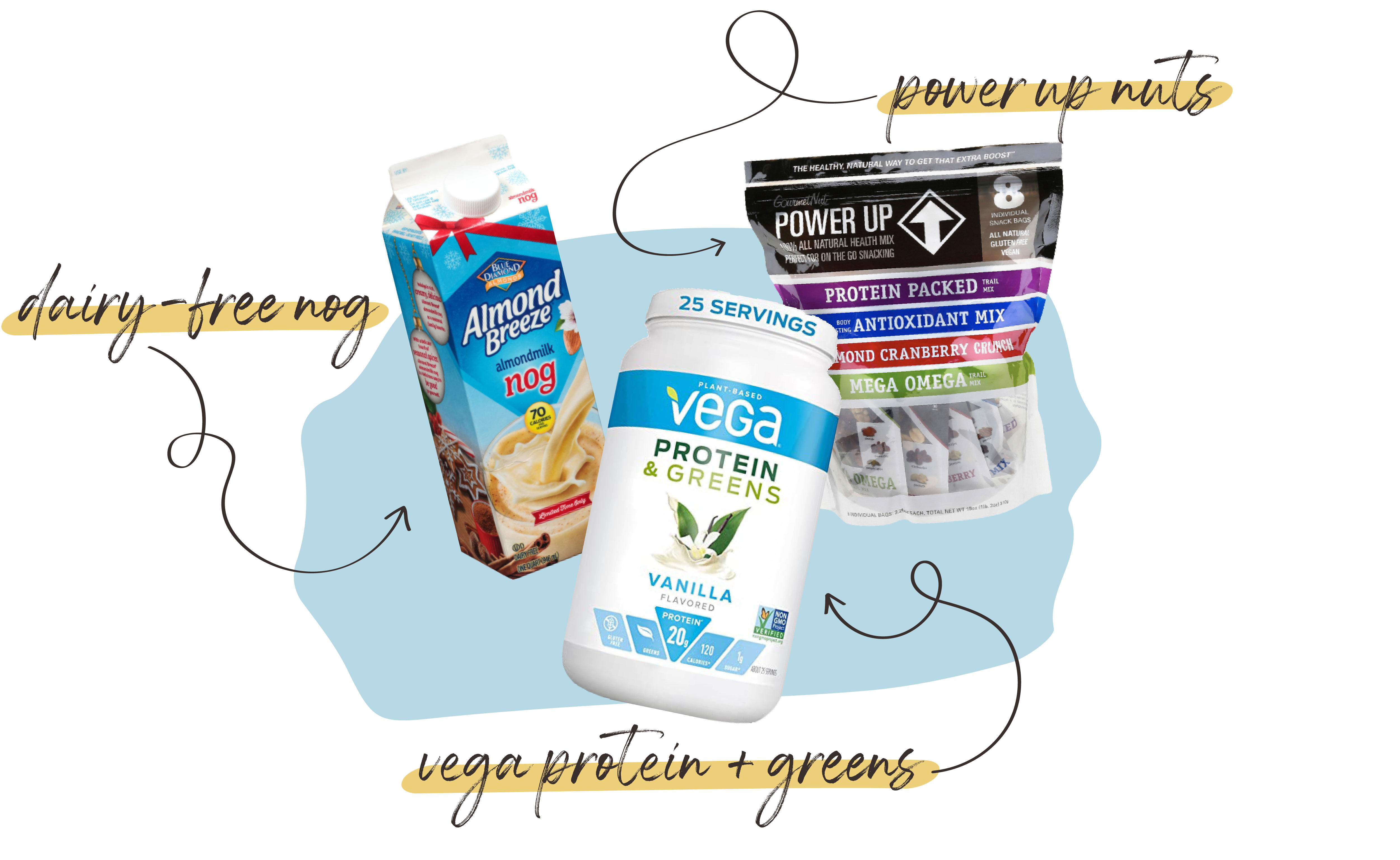 PROTEIN SHAKE: HEB BLENDABLES + VEGA PROTEIN & GREENS + CHIA SEEDS + SILK ALMOND MILK
I start every day with a protein shake – it allows me to get extra vitamins, minerals, fiber and antioxidants. Here's my favorite mix to throw together in a blender: H-E-B Blendables + Vega Protein & Greens + Chia Seeds + Silk Almond Milk.
Speaking of almond milk, I recently had to cut dairy out of my diet and was already mourning the holiday season sans eggnog. It's been fun to experiment and hunt out dairy-free alternatives and this is one of my best finds yet – cheers!
I believe what you eat supports your mental health! Think about it, food affects your mood, energy, quality of sleep and cognitive function (hellooooo, hanger!). I try to make sure I'm fueling my body and mind with nutrients and these easy-to-grab snacks make that easy to practice.

HER EVERYDAY FAVORITES: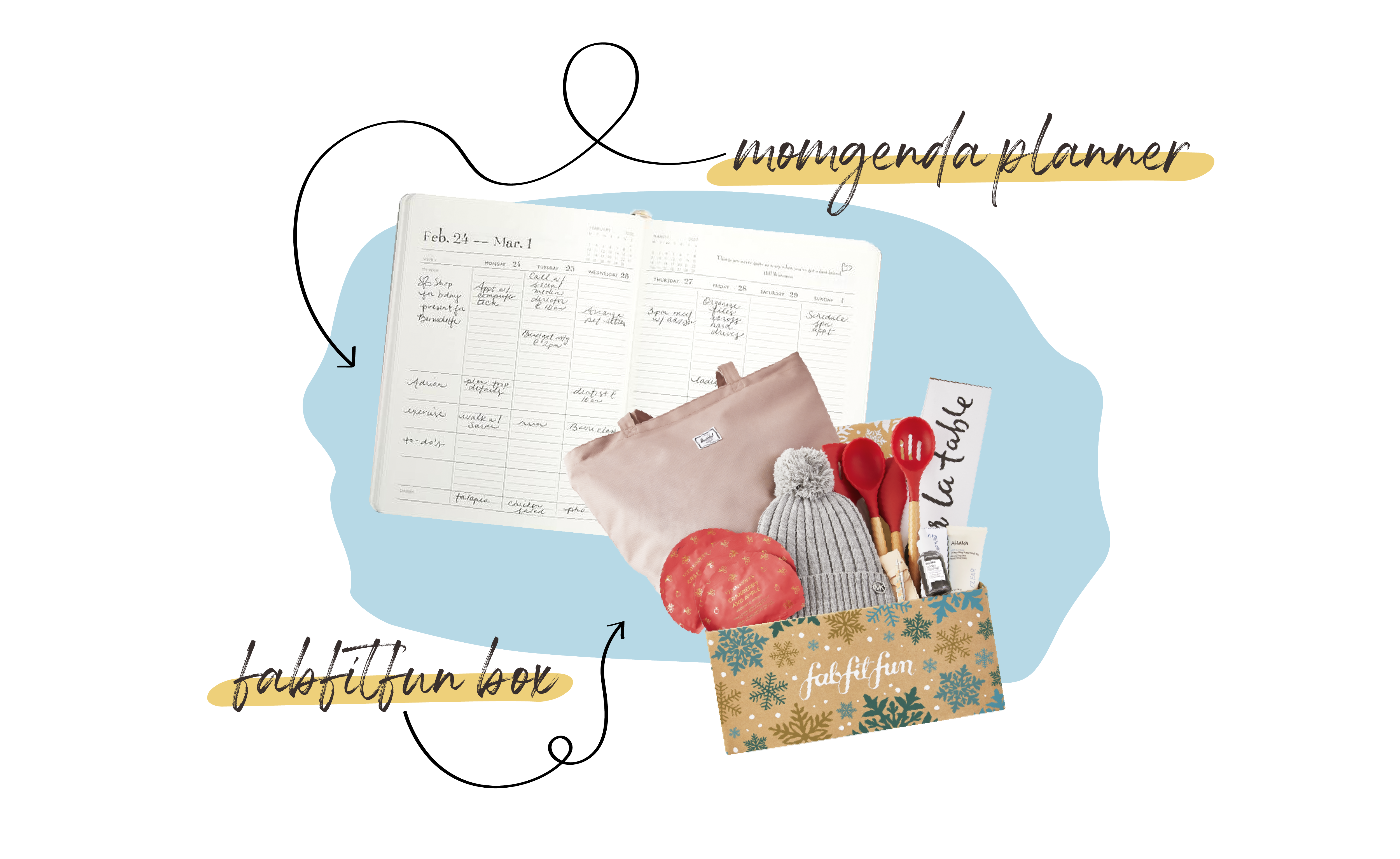 I'm the type of person that loves using a written planner to stay organized. My favorite one so far is by momAgenda. They carry a self-care planner that lets you keep track of your sleep, exercise and nutrition, as well as journal entries for gratitude and goals.
I love this affordable, quarterly subscription box. You get to choose from items such as jewelry, home goods, quality beauty products and wellness products. It's my little gift to myself, making it feel like Christmas four times a year. I sometimes will use the items as gifts for others as well!

HER EVERYDAY FAVORITES: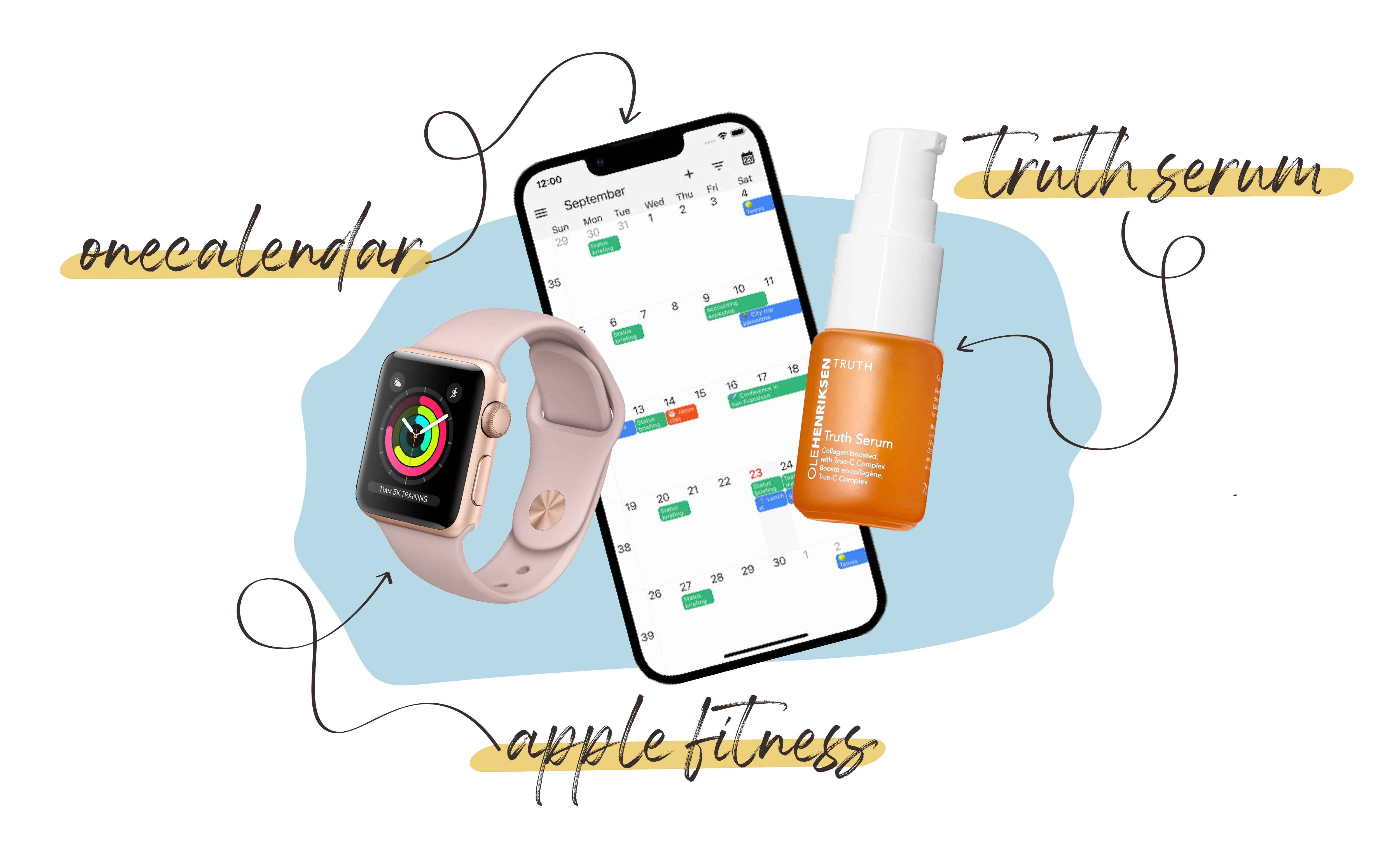 HEALTH HABIT APPS: P TRACKER + APPLE WATCH FITNESS + ONECALENDAR
FOR PERIOD CARE – I love P Tracker, which reminds me when I'm about to start my period and it lets me track symptoms, period, fertility, ovulation and intimacy.
FOR PHYSICAL & MENTAL HEALTH – I use my Apple Watch Fitness every day, which tracks my calories per day, based on how much I move, stand and exercise. I love that it also considers my mental health with reminders to practice mindfulness.
FOR WORK/LIFE BALANCE – OneCalendar keeps all my work calendars in one place, so I don't have to stress about checking multiple work calendars every day! It has the option to set reminders for events and I love having the option to personalize the look of it.
SKINCARE PRODS: ASEPXIA + PROACTIVE WASH + OLEHENRIKSEN TRUTH SERUM
I believe skincare routines are important for, not just my skin, but my mental health, too! Creating a routine is a way to establish stability, boost your mood and acts as a self-care treat for yourself.
Here's my evening routine: I remove my makeup with an Asepxia cleaning bar and organic spa towel. I'll also add Proactive wash to the mix if I'm starting to break out (Usually happens my period is coming up!). After my face is clean, I apply OLEHENRIKSEN Truth Serum. I love to use oils as moisturizers because I have sensitive and dry skin.

HER EVERYDAY FAVORITES: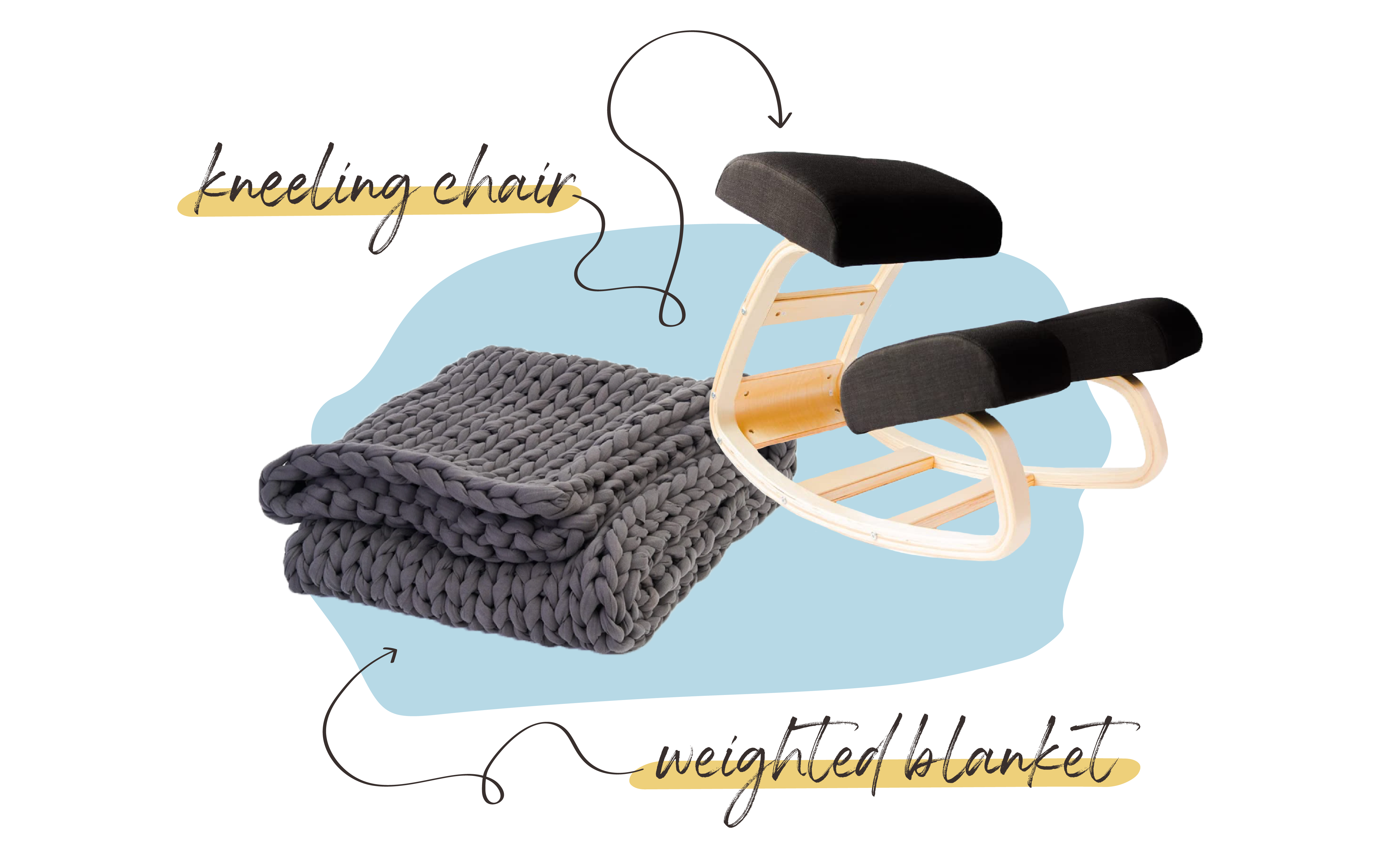 I'm a bit of a high-maintenance sleeper. I'm talking: eye mask, earplugs, blackout curtains, white noise – all critical-support accessories to me clocking in those 7-8 hours every night. But my weighted blanket, named Elbee, ("Lb." 🙃) rules supreme in helping my hyperactive, anxious mind to just *chill*.
SLEEKFORM ERGONOMIC KNEELING CHAIR
The truth is… the Instagram algorithm got me good. As an ADD survivor (see hyperactive sleeping tendencies above), sitting doesn't, well, sit well with me. A while back, a yoga teacher made me aware of how unnatural some positions feel because the office chair design has a heavy influence on our posture. I've been doing the standing-desk game for a while now, but this Insta-ad purchase (Bonus: from a local brand out of Austin, Texas!) has elevated the game for me.
Have an everyday wellness product we should put on our list?
Drop your recommendation in the comments!