Happy Pride, Betties!
As "the next generation of women's+ healthcare," ensuring every Betty feels included, safe, and supported is our ultimate goal. But to end the stigma of women's+ health and be of service to an underrepresented group, we've gotta get real about where healthcare has come up short and how we can do better.
Historically, the LGBTQ+ community has encountered barriers to care – from discriminatory attitudes, limited access to insurance or providers, and sex education that leaves them out altogether.
So let's talk about it: what does women+ health really look like? How can we make sure health education is both diverse and inclusive? And for our LGBTQ+ Betties, how can you feel more comfortable and empowered throughout your healthcare experience?
The History of LGBTQ+ Healthcare
First thing first: providing inclusive care begins with understanding the community we're striving to support.
So the question is…Who actually is the LGBTQ+ community?
The acronym LGBTQIA+stands for: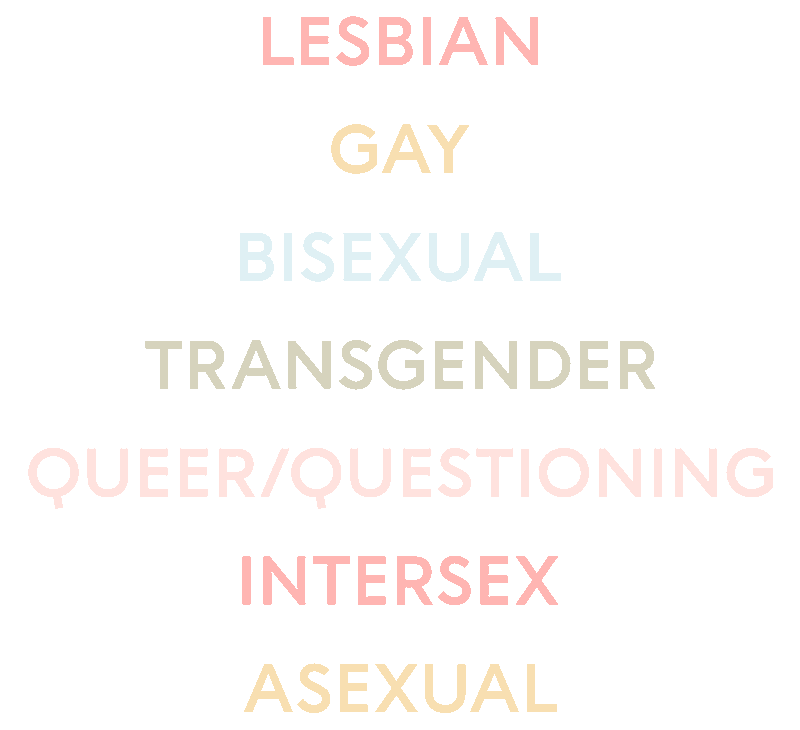 The intersectionality (big word!) of both identifying as a cisgender woman, transgender, or nonbinary and being a member of the LGBTQ+ community means that barriers to healthcare can intersect.
Meaning, that as a result, these individuals have encountered and continue to face unique challenges in receiving treatment. Let's look at what the data tells us:
3/4
of LGBTQ youth said they have experienced discrimination because of their orientation
WHAT THIS MEANS:
Sadly, prejudice isn't an out-of-the-ordinary event, but a prevalent experience among LGBTQ+ youth.
54%
of LGBTQ Americans have hidden a personal relationship to avoid discrimination.
WHAT THIS MEANS:
Discrimination runs deep. It can go beyond how you may look and can be inflicted because of who you are or who you love. When this happens in a healthcare setting, feeling unable to express yourself fully can affect how you communicate with your provider and prevent you from receiving the care you need!
15%
of LGBTQ people say they have postponed medical treatment out of fear of discrimination
WHAT THIS MEANS:
Intolerance is ever-present and a top-of-mind anxiety that can cause the queer community to withdraw from seeking care and vital health check-ups.
Betties, here's the bottom line: communities need to see and hear the healthcare challenges of LGBTQ+ individuals. Every person should be prioritized and valued no matter who they are. By bringing attention to the lack of medical attention in the past, we hold ourselves accountable for creating an inclusive healthcare space for the present and future of this community.
LGBTQ+ Health Care + Considerations
gyn health
Regardless of orientation, any and all Betties with a female reproductive system should be given reproductive health care.
What to do?
• Advocate for family planning, and reproductive services, and be vocal about what doesn't feel quite right down there.
• Get in for your Well-Woman+ exams!
sexual health
Because of heteronormativity (meaning: the majority perspective that heterosexuality is the normal, preferred, and default sexuality), the queer community has largely been left out of sex education.
Why does that matter? Think about it: If vagina-owners have only been taught sex education that applies to intercourse with penis-havers, they're left with a prettttttty massive gap in safe-sex practices.
The lack of comprehensive sex education puts LGBTQ+ individuals' health at risk. And this heteronormativity follows them into their healthcare appointments. Providers might not consider a patient's relationships other than cisgender, or heterosexual.
CONTRACEPTION
People who self-identify as bisexual and lesbian have higher rates of teen pregnancy.
What to do?
Providers need to discuss consent and contraception options with all Betties with a female reproductive system, not just those who identify as heterosexual!
STIS
LGBTQ+ Betties are still at risk for STIs!
What to do?
• Get screened – If you're sexually active, routine STI screenings will help protect you and your partner(s).
• Practice safe sex – use condoms (internal and/or external) on toys and gloves, dental dams, and avoid sharing toys.
mental health
Mental health crises are on the rise, especially so for the LGBTQ+ community. These individuals are three times as likely to experience a mental health disorder in comparison to individuals that identify as straight.
Why? Stigma, discrimination, and bias in all forms.
These challenges can impact a Betty's mental well-being, who often lacks the support system to help them through it. If you have experienced this, we hear you and empathize. We are grateful that the growing awareness of mental health has brought with it resources that specialize in LGBTQ+ issues:
resources:
LGBTQ+ ADULTS
LIFELINE
1.800.273.8255
CRISIS TEXT LINE
Text "HOME" to 741741
LGBTQ+ YOUTH
LGBT NATIONAL YOUTH TALKLINE
1.800.246.7743
TREVOR LIFELINE
1.866.488.7386
TREVOR TEXT
Text "START" to 678678
THE TREVOR PROJECT
www.thetrevorproject.org
So…what's next?
From booking your appointment to the waiting room to your actual visit, you should feel empowered throughout your care experience! While healthcare is making progress in practicing care that considers Betties of all backgrounds, orientations, and preferences, you shouldn't have to wait to experience inclusive care.
Here are a few things you can do to advocate for your health and a comfortable care experience:
1.
FIND THE RIGHT FIT
For every Betty, there's a perfect provider match, but the search can take some time. Do some research and ask for referrals to find a provider whom you trust and who will create an affirming care environment.
2.
SHARE IT ON PAPER & WITH YOUR PROVIDER
Yeah, those patient history forms can be a bit *yawn* tedious, but transparency allows your provider to give you the most-accurate care + education possible. Be honest and open to sharing your concerns and history. Some things may seem small, but they could help you understand your overall wellness.
3.
SAY SOMETHING
If the vibes feel off or if your provider isn't creating an inclusive environment in any way, let 'em know, Betties! Many physicians are still learning gender-neutral language and may not be aware of your preferred pronouns. Saying your piece will not only educate your provider but will influence how they might care for others in the future. Most importantly, speaking up supports a better care experience for you.
pride
is a time for celebrating your identity, Betties.
Here at Betty's Co., this month is a special reminder of why we work to normalize, destigmatize and depoliticize women's+ health, and why we must continue to listen to revolutionize your experience.
If you're looking for care that considers you and all your *you*ness, get started with Betty's. We provide gynecology, mental health, and wellness care that keeps your unique body and lifestyle in mind.
Book your appointment online or by downloading our app for iOS + Android.
---
Edited by: Gabrielle Powell
Medical Contribution: Lindsey Lavoie, WHNP and Jillian LoPiano, MD